The story behind my 1977 Z28...
which was my first car, purchased on March 9th, 1996 out of Aiken, South Carolina as it's 3rd owner. The second rescued it from a future of rust and corrosion which is where it would have been headed, planted in the original owners front yard. It was fitted with a 350 4-bolt with Edelbrock Performer parts and a built TH350 with only 900 miles on them, a completely replaced interior, all new brake system, floor pans, rebuilt suspension and more. I picked it up for 3,200 dollars(asking 4K). I drove it for a year, after that I have had it kept in the garage. I've been saving up for a complete restoration to a sleeper street machine. I have, at this point, powdercoated the original 5-spoke wheels in the original antique. I have installed Lakewood traction bars and Competition sub-frame connectors, coating it all with a fresh coat of black undercoating to make it all look neater. A B&M MegaShifter is currently installed and set up for a 4-speed automatic TH700R4 transmission. It is topped off with a chrome ball for a 4-speed look. The engine bay is painted and the A/C hole being welded up since I removed the ac/heater, trying to save weight at the same time. A cowl induction fiberglass hood and fiberglass front bumper are current weight saving items. The rear end has factory 3.42 gears which will be reworked.The motor will most likely be a 454 with the Edelbrock RPM Oval package with a few other goodies. See below for the final outline for the car and what it has in store towards it's transformation into a finished product.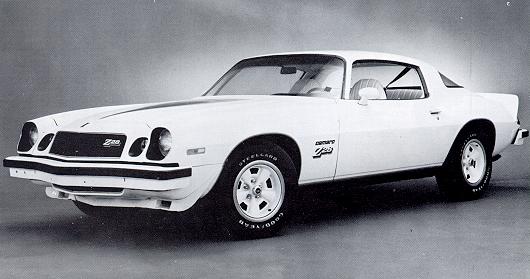 The future of the '77 Z28...
Now that I have finished the outlay and plan for the car, not to mention a complete list of every part to buy, I can now share my idea of the '77 Camaro Z28 that could have been a factory hotrod. I am trying to keep with a factory style set up while adding a few noticeable but subltle differences to really make the car stand out.
First off I have always had a place for the '70 1/2 Baldwin Motion Camaro, so that will be the paint scheme. '77 Chevy Orange outlined with '77 Antique White for the rear and single style stripe, besides Antique white is the original color of the car. Of course all Baldwin Motion cars are famous for their drivetrain. Big inch motors, manual transmissions and heavy duty, low geared rearends!
That brings me to the plan for the drivetrain of this '77 Z. A 454 powered, 4-speed, 3.73 posi geared factory looking firebreather. Every one knows that Baldwin Motion Camaros are known for their characteristics as well, so to keep with the trend, I will be running 17 inch Crager SS wheels and sidepipes to boot. Oh, and of course an L-88 hood, I have a new 'glass cowl hood on it now. Also I will be replacing the front bumper, fenders, and fender wells with fiberglass as well, as these cars are enough of a heavy weight with a small block coming in at 3,663 pounds in stock trim.
Starting with the motor which will be based on the reputable 454 HO shortblock and will consist of Edelbrock parts, as well as others. RPM Oval Port heads, RPM 2-O intake with dual 600cfm Edelbrock carbs and Pro-Flo air cleaners. The valvetrain will be mainly Crane products including a PowerMax Hyd. Rol. Cam with 288/296 Dur. and 587/610 lift.
The original TH350 was gone when I got the car and had plans to install a TH700R4, even have the shifter installed already, however under the circumstances I thought a 4-speed manual transmission was more appropriate. The BW T-10 was about as good as it got in the '70's and we all know they are not capable of handling the torque of a stout big block, so.... A Richmond T-10 will be the way I will take topped off with the classic Hurst Comp-Pro shifter. Fitted with a 2.88 1st, 1.91 2nd, 1.33 3rd, and 1.00 4th gear it should be about perfect with a Centerforce Dual Friction clutch set.
As for the rearend, nothing fancy really. An 8.5 inch factory 10-bolt upgraded from 3.42 open to a 3.73 posi. 3.42 was standard with auto. transmissions and the 3.73 likewise with the 4-speed option, besides 4.10's are a little steep for street use.
As far as everything else goes, a little suspension work, interior work, and chassis cleaning should round it out. The interior will remain stock except for phantom guages.
This also means that I have some stock components for sale so check out my Parts Page.
This outline may change as needed.
RECENT PROGRESS
11-03-01: Began removing the dash and other interior parts.
11-04-01: Removed all AC/Heater equipment, for one, it was already incomplete and needed replacement, for two the wiring harness was cut. All AC/Heater parts will be removed permanently, so if anyone needs these parts for a restoration, I have all under dash components.

Email:
UserZ8590@cs.com