What's New for 2002
Increase in power for the 2002 LS6-405HP!
35th ANNIVERSARY CAMARO SS
COLLECTORS EDITION TA
CHEVROLET.COM - 2002 CAMARO
SLP ONLINE
MECHAM PERFORMANCE
2002 CAMARO ZL1/LS6
Could this car become a reality?
Not after September 25th, when GM formally stated that it will be closing the St. Therese Plant sometime this fall after being open since 1965!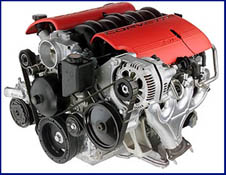 2001 LS6...
...and no it is NOT a big block!!! It's the newest Gen. 3 small block modeled after the LS1 powerplant, except with a long list of modifications. Among the many enhancements that make up this new engine are revised cylinder heads, valvetrain, block, intake and exhaust manifolds. All these changes help this engineering marvel to put out 385 horsepower and 385 foot-pounds of torque and have a rev limit 500 rpm higher than that of the LS1. With both a larger cam and higher flowing cylinder heads this motor has just as much and more bottom end grunt as an LS1.
The short block is enhanced with larger "windows" for bay-to-bay breathing and strengthened main web. It also utilizes an aluminum-hubbed lightweight harmonic balancer. Other improvements are tighter main bearing tolerences and heat-treated rod screws. Revised pistons create a more durable piston-to-bore relationship and increased oil control. A bit more duration and valve lift in the cam with an increased overlap, help squeeze more power from within.The only problem encountered in testing was an oil control problem which was corrected, and was only a problem during extreme testing.

HEAD TO HEAD COMPARISONS:

LT5 vs. LT1 vs. LT4 vs. LS1 vs. LS6 vs. LS7

LT5: (1990-92) 375hp@6400rpm / 370tq@4800rpm
LT1: (1992-97) 285hp@5000rpm / 325tq@4000rpm
LT4: (1996-97) 330hp@5800rpm / 340tq@4500rpm
LS1: (1998-00) 345hp@5600rpm / 350tq@4800rpm
LS6: (2001-02) 405hp@6000rpm / 400tq@4800rpm
LS7: (2005 ) 445hp@5600rpm / 450tq@4400rpm