FuzzyChevy Camaro Site
Welcome to the site for 2nd Gen. F-Bodies!

This site was created in an effort to expand the growing interest in the Chevrolet Camaro Z28/SS, Pontiac Formula/Trans Am, and all f-body counterparts. I, myself own a 1977 Camaro Z28, 1994 9C1 LT1 Caprice(will be selling) and 1998 S10 4.3/5sp pickup(selling).
Here's a look at what you can expect to find here:

Project Z, my 1977 Z28 that is undergoing a restoration
Many dynoed engine packages-from the 350 to the 454 big block
Information on a number of small and big block cylinder heads
Camaro Gallery
Links to other related sites
Current GM offerings
RECENT UPDATES:
I am working on adding more engine combos, since this seems to be a strong point of this website.
02-17-02: Update on Parts Page
10-14-01: Update on "My '77 Z28"
10-26-01: '77 Spec Page expanded to 2nd Gen. Spec Page
11-04-01: Update on Links-added more For Sale/Wanted Classified sites
I have 1977 Z28 parts, 1997 Z28 parts, and a couple of '94 9C1 parts for sale, I need to get rid of these things so check them out.

CAMARO CORKBOARD-where to go for anything camaro related, Q's & Answers, Events, and more.







visitors since 01/21/01. There has been an additional 600 visitors since 01/15/00!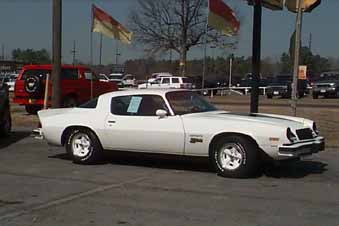 2003 CARLISLE DATES:
Spring meet/April 23-27
GM-Nationals/June 13-15
Summer meet/July 25-27
Fall meet/October 1-5
...I usually attend the GM-Nats. since it hosts
"Camaros at Carlisle".

BECOME A MEMBER OF THE "2ND GEN F-BODY WEBRING" BELOW!
drop me a line